How do we use apps for teaching and learning?
Nowadays, more and more schools and universities have been adopting portable devices for teaching and learning. In compare with the traditional classroom based teaching and learning method, the main tools we used on these portable devices are apps. But how do apps suit our teaching tasks? What kind of apps can improve our learning experience and effects? Can we use apps to make our classroom teaching more engaging? ... Lots of questions arise in this changing era. To answer these questions, we would like to provide some cases as an induction for teachers and students who are new to the "App Based Teaching and Learning".
We also provide eLearning and mobile learning services including content design and development, project management and consultancy.
Cases of using educational apps in our teaching and learning
Case I: Apps suit both teaching and learning
Case II: Productivity tools for teachers to produce eLearning materials
Case III: Utilities for Personal Study
Case I: Apps suit both teaching and learning

Bacteria Guide is a typical app that suits both teaching and learning. The app was designed with beautiful interactive illustrations, charts and appealing animations, and makes the learning touchable and engaging. The app also integrated with an audible glossary, which can help users to learn the details of knowledge together with the pronunciations of scientific terms.
Apply in case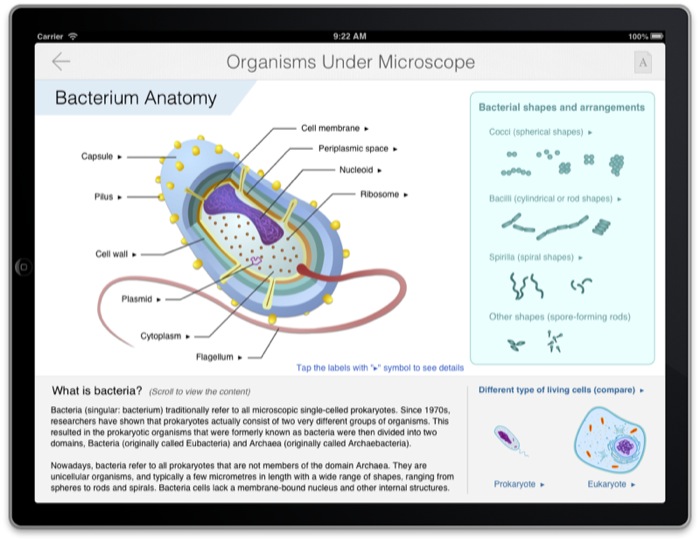 For students, the app is the best illustrated instant note suitable for either the first time learning or revising before exams. Integrated with the appealing animations and vivid diagrams, the app can help students to understand the scienctific concepts easily and quickly.
For teachers, the app can be directly used in a classroom teaching. Connecting the iPad with the projector, teachers can present the interactive illustrations and animations to students via the iPad's mirror displaying function (this function is available on iPad 2 and later devices). This can make the teaching progress more engaging and greatly improve the learning effects.
For general users, the app is a very good and convenient reference to broaden your horizons to the Bacteriology and Microbiology area.
Related apps: Focus on Plant
Case II: Productivity tools for teachers to produce eLearning materials

Bio Flowchart targets to help teachers to create vivid and professional biological flowcharts and diagrams just by simple touches. Unlike traditional flowcharts that are fully composed of shapes, texts and arrows, this app provides more than 200 biological clip arts and images to help users to create professional diagrams and flowcharts for the lecture presentations or teaching notes.
Apply in case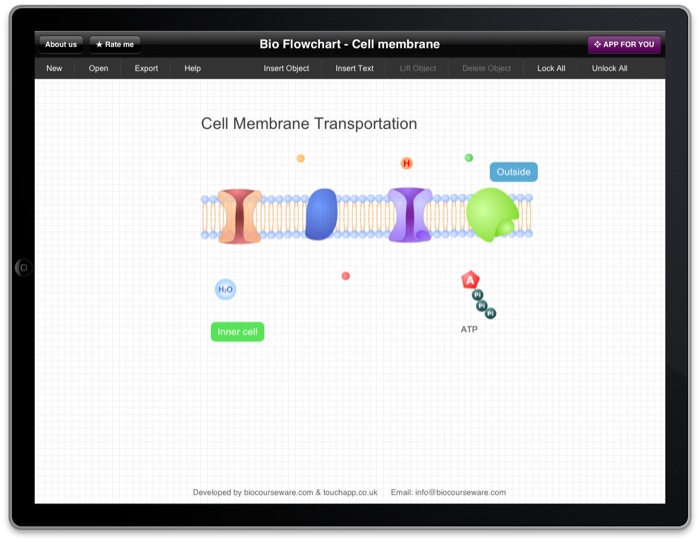 More than 200 professional biological clip arts and images covering Molecular Biology, Cell Biology, Biochemistry, Microbiology and Laboratory techniques areas. The images library is growing and will be updated regularly.
Teachers can create new diagrams by composing the clip arts and images from the image library. All edits are saved automatically. The finished charts can be exported via email, dropbox and other several ways.
Exported charts are JPG formats, which can be used by lots of desktop software and are also suitable for web publishing.

Another app useful for teachers is Rec Pad. It provides a simple way to record what you read from a prepared reading transcript. It is a good tool for teachers to produce their teaching podcast, vodcast or to prepare multimedia learning materials.
Related apps: E-lecture Producer
Case III: Utilities for Personal Study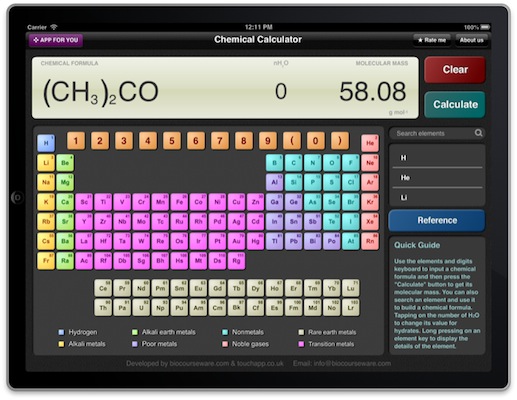 ChemCalc is a convenient chemistry tool for students and professionals to calculate molecular mass (molecular weight) of compounds and learn basic properties of chemical elements on iPad.The app uses a unique elements keyboard and digits keyboard are provided for user to input a chemical formula and then calculate its molecular mass. The app also provides the properties of each element, as well as common ions, acids and bases reference.
Related apps:
Terms of Plant, Basic Microbiology Lab Techniques